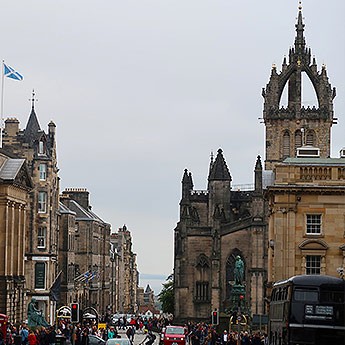 In between Edinburgh Castle and Holyrood Palace lies one of the words greatest pieces of architecture and one of the worlds most famous churches as you will see on one of private guided driving tours.
Whether you a religious person or not I always recommend people visit St Giles Cathedral or The High Kirk of Edinburgh as it's also known. On one of our bespoke private guided Edinburgh luxury guided driving tours, this building is one of my personal favourites to explore and show visitors who are visiting Edinburgh and Scotland.
The history books say that the church was likely founded in the 12th century and dedicated to Saint Giles and was elevated to collegiate status by Pope John Paul the 2nd in 1467. The stain glass windows are mesmerising every tour group that I have taken and shown St Giles to over the years on Bespoke Guided Driving Tour have all fallen in love with the architecture and stain glass windows.
The cathedral is still used for religious services every week if you wish to attend a Sunday service in Edinburgh or Scotland and they host a Christmas Carol service there every year. I have taken many guided tours to the cathedral for Christmas service over last few years to experience a Christmas in Edinburgh and Scotland.