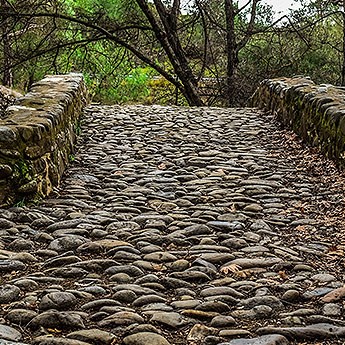 The Scottish summer weather has finally arrived and it's perfect weather for Edinburgh private guided tours. Just outside of Edinburgh before we reach South Queensferry is the old Cramond Brig. This was the originally bridge that was used to connect Edinburgh and West Lothian, it's been closed to Edinburgh Driving Tour vehicles and cars since the mid 80s.
The bridge comprises of three arches with huge triangular cut waters. On one side of the bridge is the famous cutaway scene that was used for the filming location of Miss Jean Brodie. Further down the bridge before you reach the park is favourite spot on our Edinburgh driving tours, there is a small plaque for Pet Marjorie. Marjorie is a very famous author and is must for all fans of Scottish literature on an Edinburgh guided tour or a tour of Scotland. She was a Scottish child writer and poet who unfortunately passed away when she was eight years old. She is best known for her famous diary that she wrote daily entries in for the last eighteen months of her life.
She gained appreciation from Sir Walter Scott and Robert Louis Stevenson she is defiantly one of the lesser famous Scottish writers. But when people hear of her story and how much she is loved the world over.
Someone from the private tour group always ends up ordering a copy of her book before the end of the day. The original manuscripts are now kept in the nation library of Scotland and when we are doing our Edinburgh city centre day tour. The library is always pointed out to our private Edinburgh driving tours.