We are Simona and Gabriella, a very enthusiastic team with a long-time experience in tourism and travel. Our agency, focused on incoming travelling, is located in Cannobio (Verbania). We organize and offer day trips, hiking tours, activities and tourist packages in the territory of Lake Maggiore, Piedmont, Italy. Il Viaggiatore (= The Traveller) is born as a union point between the beautiful region of the Lake Maggiore and an active kind of tourism, both natural and conscious.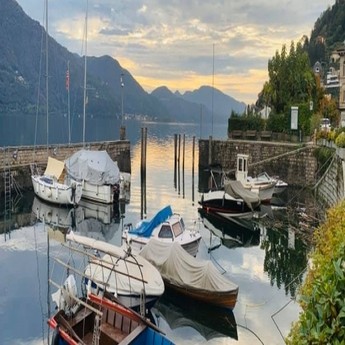 Cannobio is a small town on the lakeside ready to offer an active and "green" kind of tourism. Our town allows one to keep oneself busy all week long in a very natural environment. Something to underline is safety: Cannobio is mostly pedestrian: that means that even children can easily reach the lido and its beach, the promenade or the commercial area, or the old town in an almost completely pedestrian route. The guest therefore won't be feeling isolated but, on the contrary, will get instantly involved in the town daily routine.
Il Viaggiatore Lake & Mountain Tours is an Incoming Travel Agency offering a "brand-new" Lake Maggiore, one that has not been completely discovered yet and therefore genuine. Especially in the Upper part of the Lake (e.g. Cannero Riviera and Cannobio) one can still find the typical local architecture and run into old medieval villages with touches of Belle Époque. Simona and Gabriella both love hiking, biking and nature.
It is here that the lake and the mountains, Italy and Switzerland meet in a unique territory.
Some example of our activities:
– Panoramic Hiking Tour from Cannobio to Cannero Riviera
– Domodossola and the Sacred Mountain
We await you on Lake Maggiore, Benvenuti!