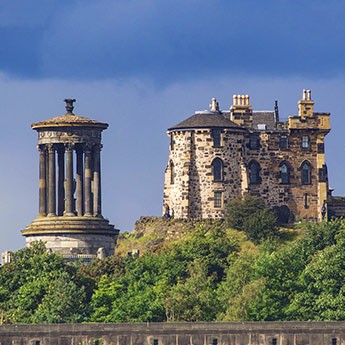 Calton Hill is a hill located in the centre of Edinburgh, Scotland. We always love exploring Calton Hill on our bespoke luxury Edinburgh private guided driving tours, the short drive up the hill in our luxury vehicle is a delight for the senses.
It really shows Edinburgh from a different perspective and in a lot more detail, upon reaching the top of the hill on one of our private Edinburgh bespoke driving tours. The first thing you will notice is the coliseum structure in the middle of the hill, this is called the national monument of Scotland and was built in the early 1800s, it was built to commemorate the fallen in the napoleonic wars.
Unfortunately they ran out of money during construction so it was never completed. It is a beautiful structure non the less and can be seen all over Edinburgh! When we are on Calton Hill you will be able to see Leith and Newhaven Cruise ship terminals to our right where a lot of our private driving tours begin and end.
To the Left on the hill in the distance you will be able to see The forth Road Bridge and South Queensferry cruise ship terminal which is another starting point for our tours. Just beyond the bridges in the distance you will be able to Rosyth cruise ship terminal as well where we have to cross the Queensferry crossing bridge over to fife.