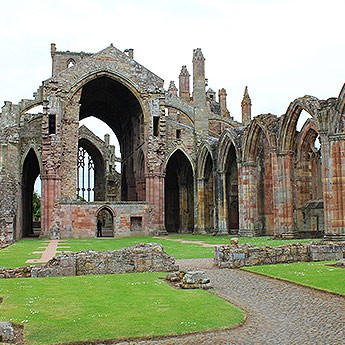 In between Scotland and England lies one of my favourite private driving tours, it's luxury tourism at its best.
This private bespoke Edinburgh guided driving tour has everything to make everyone extremely happy on this private day tour. Once you have been picked up from your Cruise ship or hotel in one of our luxury vehicles, we will head to the famous countryside of the Scottish Borders. The views here are absolutely breath taking whether we visit in spring, summer or winter.
We will stop of at the famous Melrose Abbey where legend dictates that the heart of king Robert The Bruce is buried. Next up is a complete sensory overload on this private bespoke Edinburgh luxury driving tour. This is a view that is brats taking the world famous Scott's view, sir Walter Scott's favourite spot where he would stop and take in the view of the countryside.
After we have had a dram or two of whisky in memory of sir Walter Scott, we will head to Abbotsford house Which was home until he passed away. We also visit the largest inhabited castle in the whole of Scotland floors castle. Which is an ever growing story of of house and garden.
It's a fantastic day tour one of my personal favourites to show visitors to Scotland and one I'm honoured to take them on a private Edinburgh guided driving tour of Scotland.